This Easter I wanted to improve my lighting skills, and try out a few ideas that had been bouncing around in my head for a while. I also had some gear that had been sitting on my shelf for too long that I wanted to try out 😉 Lucky for me, my wonderful dance partner Mimi Terris was up for a little experimentation, and brought a few ideas of her own to the table (including a wolf – but more on that later!). We spent a whole day shooting pictures, had a lot of fun, and I got to try out some cool stuff.
Studio shots
We started out in my apartment, which I had converted into a small studio for the occasion, and tried to mimic some old-style portraits. Here's an example (click for larger version):
Mimi did all the hair, the makeup and the posing, while I wielded the light and technology. A background kit and two softboxes was all it took, and I think it turned out pretty well 🙂
Turning day into night
For the second part, I wanted to try to create some dark and spooky forest pictures, and thought Mimi's fair skin would be a perfect elvish contrast to a gloomy forest (how's that for adjectives!). She was on to the idea right away, and managed to find someone who knew a woman, through Facebook, with a wolf-like Siberian Husky that we could "borrow" for the shoot. She also almost rented a stuffed raven, but since none of us were sure if the "wolf" would see the stuffed raven as an irresistible chew-toy, we decided to skip it (this time).
Now the only problem was how to create a dark and gloomy forest from a sunny day. What I ended up doing was
Set the cameras white balance to tungsten (about 3200K). This turned the warm daylight into a cool blue
Under-exposed the background, with the camera on manual, to get a darker, blue, night-like setting
Attached two flashes (strobes/speedlites) to a tripod, and covered them with an orange film (for the strobists: I gelled it with a 1/2 CTO). The flashes were now giving orange light, which looked white to the camera, since it's white balance was set to tungsten
Set the flashes to high-speed sync mode. This was necessary to get them to light the scene properly, with the fast shutter speeds needed by the camera to under-expose the background (a typical shot was taken af f/4 and 1/1000s)
Here's an example of how this works. First off, a picture as it would have probably have looked if I used the camera on automatic (with a 'daylight' white balance). Click the image for a larger version:
This is what happens when I set the white balance to tungsten, and underexposed the scene:
Next step was to add the flashes (with the orange 'gels'), which now look white to the camera and voila – something that looks a bit more like a moonlit forest:
And here is the final version, with a bit more tweaking to make it more dramatic:
For the shoot Karina and a friend showed up with 3 dogs, including Aqui the Siberian Husky we would use for "wolf". She did a great job at keeping him in place, even though he was distracted by the occasional mouse or lizard rummaging through the forest bed. Here are some more of the shots we got out of it (click for large):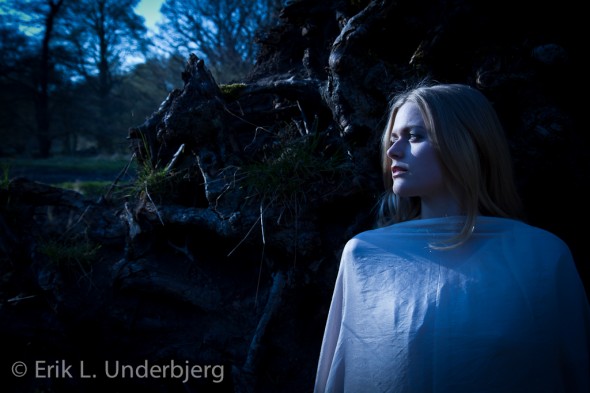 Thanks
Finally I want to Mimi for being so much fun to work with, and for being so patient, despite the not-so-comfortable spots I made her sit. Also a huge thanks to Karina Tollundgaard for letting us use Aqui, and for helping us out by keeping him in front of the camera.
And after an eventful day we strolled off into the sunset.